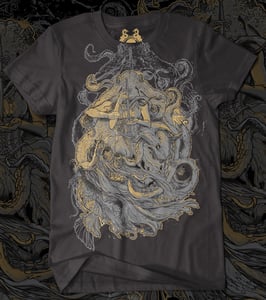 $

26.00
This piece is silk screened using four spot colors printed on a Fruit of the Loom 3039R 100% heavy cotton, 5.6 oz. shirt. Sizes S-XXL.
The inks are applied with a Hybrid technique which means the graphic will feel like part of the shirt instead of the plastic feel of straight silk screen ink.
An extra feature is a printed tag that displays my skull and dragon logo, signature and other info.
***Shirt fits true to size.