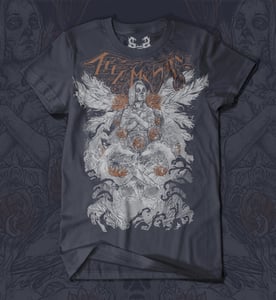 $

24.00 - On Sale
****PRE ORDER****
"Keep Me Safe" is released for pre-order in March. Product will be printed by the end of March 2011. I was filmed live drawing and coloring the shirt through Go Media. They will be selling this tutorial in late spring 2011 at www.gomedia.arsenal.us
KMS will be silk screened using three spot colors printed on an AlStyle #1901 Ringspun %100 cotton tubular tee. Sizes M-XXL.
The inks are applied with a Hybrid technique which means the graphic will feel like part of the shirt.
An extra feature is a printed tag that displays my skull and dragon logo, signature and other info.
Pre-orders will be $24.00 once these are printed cost will be $26.